FIND MY CERTIFICATE
HOW TO FIND OR LOOK UP A DIGITAL CERTIFICATE

American Red Cross Digital Certificates
Remember the days when you had to carry your printed certificate around and hope not to lose it? Those days are gone. The American Red Cross started using digital certificates a few years back and they have been a great addition to the program.
Digital certificates make keeping your certification with you easier than ever. The certificates are easy to pull up from a cell phone or computer. Digital certificates also make it a snap for an employer or organization to check and verify your certification levels.
There are two ways to lookup an American Red Cross digital certificate.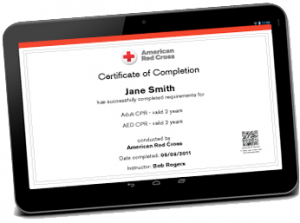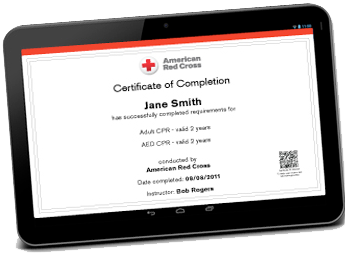 Find My American Red Cross Certificate
The first way to find your American Red Cross Certificate is to search using the Find My Certificate webpage provided by the American Red Cross. By searching by the email address that you registered with the American Red Cross or your Training Provider you can easily lookup all of your American Red Cross certifications in one place. You can download or print them, if you'd like to carry a physical copy of your certificate(s). You can also order printed certificates directly from the American Red Cross if you'd like.
Verify an American Red Cross Certificate
The second way to lookup a certificate is generally used by employers. This is also a website but this one allows for a search by a certificate number. If you are an employer and your employee has given you his or her certification, or even just the certification number, you can use it to search for the certificate to validate that it's valid as well as see when it expires. This tool makes compliance and HR record keeping a breeze. Just go to the American Red Cross digital certificate verification web page and search for the certificate number you are trying to verify the certificate number can be found on the printed digital certificate.
https://classes.redcross.org/web_common_img/assets/Verify.html
CPR Certification Expired? Renew Your Certification!
CPR certifications don't last forever. Generally, they expire every 2 years. If your CPR certification has expired it's time to renew. Key CPR is a proud provider of American Red Cross certification courses. With Blended Learning (Online + Classroom) courses renewing your First Aid, CPR, or BLS certification has never been easier. Sign up for a class today and get your American Red Cross Certification (valid for 2 years).