Red Cross VS AHA BLS Certification
The American Red Cross (ARC) and the American Heart Association (AHA) are the two most popular BLS certification providers. They are the most widely accepted certifications for most professions including healthcare providers like MDs, RNs, EMTs, and more. They also offer certifications for the general public. Both are excellent organizations with long standing history and achievements. Their CPR certification programs have more in common than they differ. Both call their certifications BLS for Healthcare Providers but there are some things that can make a big difference in who some people choose to use. 
There are more similarities than differences between the Red Cross and AHA programs.
Both programs provide digital (eCard) certifications valid for 2 years
Both offer blended learning options that allow someone to take part of the class online and the rest is taken in a classroom setting with a certified instructor for the skills learning, testing, and final certification
Both offer programs that adhere to the latest International Liaison Committee on Resuscitation (ILCOR) guidelines, which is the international governing body on resuscitation. This is where the standards are derived
Both are widely accepted certification programs that are accepted by most employers
Neither offers BLS certifications obtained online only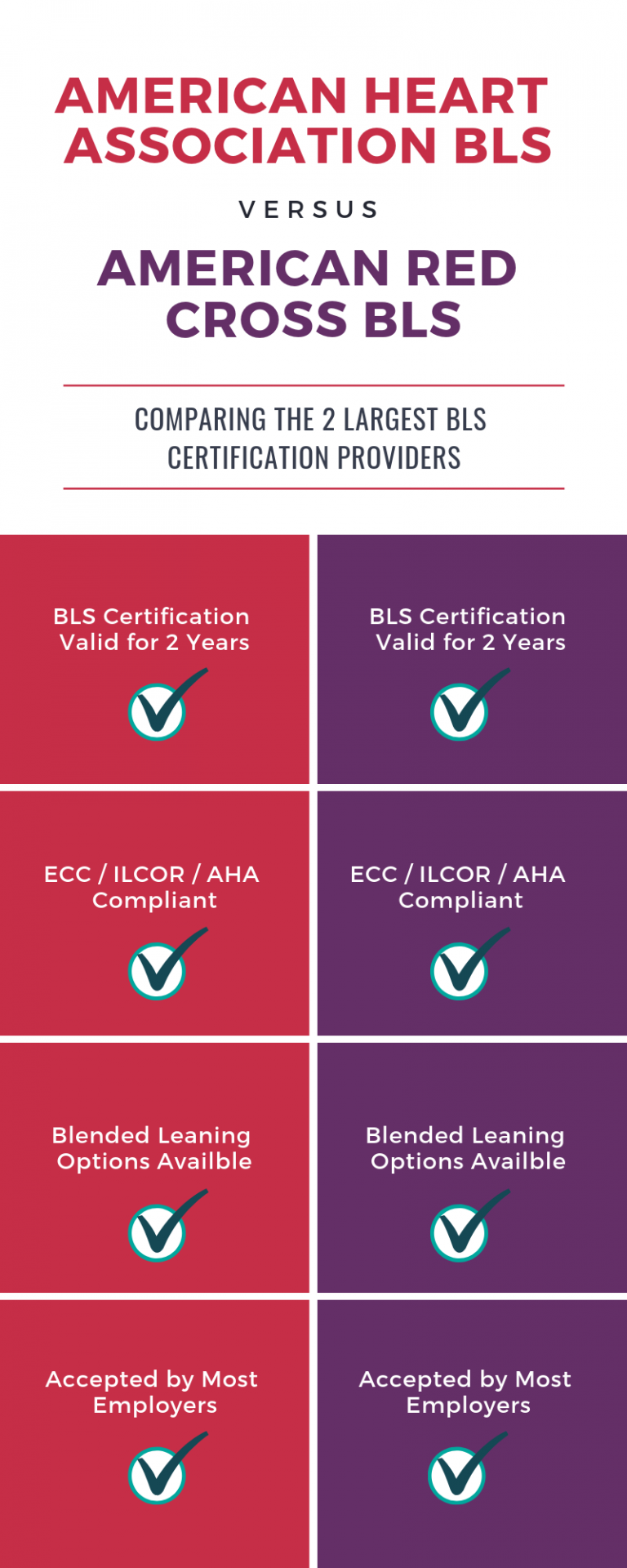 The American Red Cross and AHA have very different pricing. This is going to be one of the biggest factors in which certification provider to go with for most people.
The AHA certification classes are generally taken through Training Centers or Training Sites that are licensed with the AHA. There are 3 areas of cost in their pricing model. For most people the blended learning option is generally what is taken so let's look at the BLS version of that. In this case the AHA handles the online portion of the training through their website. This has a cost of $20 paid directly to the AHA. You then need to go to a training provider to get the skills check, which is generally sold separately. The cost of this varies depending on the provider but can generally be found for about $40-60. The final piece of the AHA cost is one that catches a lot of people off guard. This is the cost for the manual. You are required to have a manual to bring to class with you. If you don't have one you can't be certified, it's a requirement. There are two ways to get the manual. You can buy an eBook and print it out or you can buy a preprinted manual from your training provider. The cost of this manual ranges as well but it can cost anywhere from $17-30.
Looking at the example of a large respected provider in the Southern California area the pricing breakdown of the BLS for Healthcare Providers certification looks like this:
$20 (for the online portion) + $40 (for the skills check) + $28.50 (for the printed manual) for a total cost of $88.50.
The American Red Cross has a much more straightforward pricing model. The classes are offered by the American Red Cross itself as well as licensed training providers and instructors. The classes are generally a bit more expensive if taken from the American Red Cross directly than from one of its training providers. The great thing about the American Red Cross classes is that everything is included in one price. You only pay one fee and you get everything you need to get certified. Everyone who schedules a class is provided with an eBook manual as a part of the cost. You are also not required to print it out, you can bring a digital version on a computer, phone, or tablet with you to class.
Looking at American Red Cross pricing in the Southern California area the pricing breakdown of the BLS for Healthcare Providers looks like this:
$90 for the blended learning option with the digital manual and skill check included.
American Red Cross Licensed Training Provider:
$75 for the blended learning option with the digital manual and skill check included.
Conclusion:
Taking an American Red Cross BLS certification class from a Licensed Training Provider can save about 15% off the cost of a similar AHA class as well as having a more straightforward pricing model. Taking a class directly from the American Red Cross costs more than most AHA providers but the pricing model is much more straight forward and has no hidden costs and no need to waste trees on physically printing a student manual.
The American Red Cross and AHA certifications are both widely accepted. It is up to an employer on which certification provider (or providers) they accept. It's important to check with your requirements before booking a class with any provider to make sure you are getting exactly what you need. Most will accept American Red Cross as well as AHA certifications.
As far as overall acceptance goes, the AHA certification has a slight advantage in the medical community but times are changing. With the release of the American Red Cross's new Resuscitation Suite (BLS, ALS, PALS) the American Red Cross is already making some serious waves in the industry and even became the standard for the US Military Training Network.
The AHA is a voting member in ILCOR and establishes the guidelines in the US using its research as well as the guidelines established by ILCOR. You will find that most providers will tout that their programs are AHA compliant as a result, which includes the American Red Cross programs. The American Red Cross and AHA issued a joint statement regarding their program equivalency back in 2016.
The American Red Cross and AHA both offer excellent BLS certification programs for Healthcare Providers. You can generally save some money taking an American Red Cross certification course from a Licensed Training Provider like Key CPR. Ultimately, you will need to do a bit of research on what is available in your area. Distance could end up being one of the main factors for you. Although, most cities will have multiple options nearby to choose from.